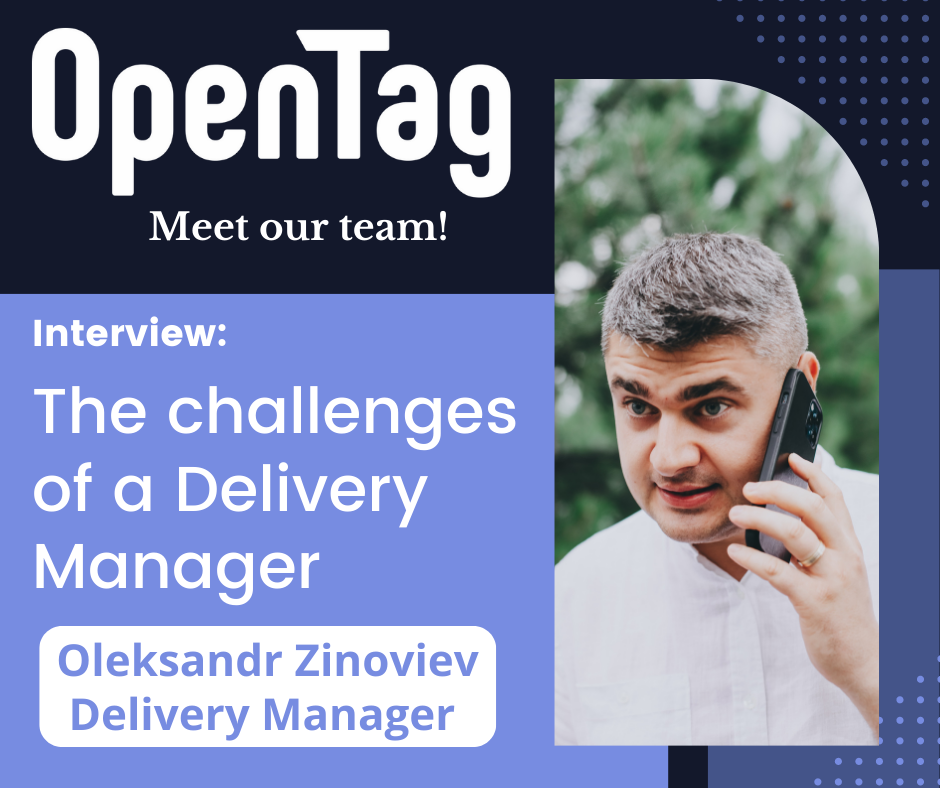 OpenTag is developing a platform for betting operators. Opentag is setting the next market standard in terms of scalability, agility, and technology in content publishing and automation to ensure we provide the best user experience and the most effortless control to its users.
Currency OpenTag employs over 160 people located in several European countries.
Around ⅓ of Opentag employees are located in Ukraine, and today we want you to meet our Delivery Manager for Ukraine – Oleksandr Zinoviev.
– Hello, Oleksandr! Currently, you are our Delivery Manager in Ukraine. Before that, you worked as a QA in several companies and had other jobs before becoming QA. What drove you into the IT sphere?
– Hello Peter! Yes, you are right. I've been working in the IT-sphere for 11 years already. I started as QA and growth to QA Lead and then moved to Delivery Management.
When I worked as QA, the hardest was the routine work, when you do the same things every day. The good thing about working in a good IT company is that you can always avoid routine.
If you have any ideas or improvements, you can always bring them, implement something new or change processes – you have more freedom. The second thing that drove me to the IT sphere is the people.
I've changed three companies in my 11 years in the IT industry. And in every company, I've met interesting and intelligent people who have happily shared this experience, taught me, believed in me, and given me the freedom to implement my ideas.
Thanks to them for that, right now, I'm here with my knowledge.
– For many years, you were QA in different companies and switched positions.
What was the most challenging part in moving from being a QA to a Delivery position?
– It was an exciting story. In my previous company, one day, the Head of Delivery came to me and proposed to promote me to Delivery Manager and take the lead of a new team.
I thought for a couple of hours, and in the end, I accepted the promotion.
I had a few challenges in the first few months. First, I started on an important project that had to be created from scratch, and to get this project done – I needed to build communication between 4 internal teams: My team, DevOps/DBA team, Financial Team, and the Customer Support Team and one external team who is responsible for CRM development.
Initially, we should work on this project together with our BA. He should have prepared the requirements and built the App's architecture with the Head of Delivery and me. We are committing to the project, and unfortunately, the BA from my team had to leave us for an extended sick leave. That was a shocker.
As a person who was just recently promoted to a new role and committed myself to my new role, I had two choices: to quit right away or get the job done.
Of course, I decided to work – and it was the most challenging few months in my life in a new position with a new level of responsibility. During this period, I worked as BA as DM, and together with the team and Head of Delivery, we built the app's architecture, and I prepared all requirements for the dev team. In the end, the project was successfully implemented and was ready to launch, but the business decided not to launch it.
That was a very unpleasant and challenging moment – during those several months, we all did a very IMPORTANT project, but now the project is put on hold. Unfortunately, it can happen, and we as managers should find the right words and not demotivate our team.
– Sometimes, life is unfair and similar things can happen to everyone.
But can you tell us more about OpenTag? You were one of the first people that joined the company at all!
What are the biggest challenges you experienced when joining a start-up company like OpenTag?
– This is a tricky question since we had many challenges when we started.
For me, it was a new domain and a new experience to start working in Company from scratch without defined processes. I recall that the biggest challenge was the launch of our MVP. Initially, when I joined the company, our goal was to launch it in 18 months, but then the plan changed to 9 months with almost the same scope. In the end, we achieved this goal! It happened with work over weekends from time to time, but when everyone in the company is working together toward the same goal – everything is achievable.
– What do you do to keep the spirits high in the teams you are responsible for in those troubled times for Ukraine?
– The best thing we can do in such a period is just to communicate with each other / altogether. We have regular meetings with my whole team and 1-2-1 meetings with every colleague reporting to me. During this period, every private sync-up starts/finishes with worried topics about war, safety, and relatives. We are always ready to support each other.
We all read news chats and know where our teammates live. Personally, if I read news about rocket attacks into the city where my team-mate is living – I'm always asking if everything is okay with them. I think communication helps us understand that we are important and that we have the support of each other.
– As a final question, what advice would you give someone starting their career in IT right now?
Around seven years ago, I worked as a Trainer in a QA school and saw many people coming to our school. I can put them in three types:
– students that have a strong desire to learn new and are ready to work in any exciting company to get the first experience
– students that decided that QA it's an easy way to join the IT industry.
– students that want join to IT – because it's mainstream and salary is good.
Only the first type had a 100% chance to join IT, show good results, and love their job.
So, I can recommend those three things :
 1.First of all, find the right direction in the industry. Then, find the best role for yourself.
2. Always be ready to give more than expected from you.
3. Always learn something new that applies to your position.